The new county judge goes to Austin
I've heard nothing but good things so far about Smith County Judge Nathaniel Moran. Since he took the helm, things have at least stabilized after more than a year of disarray in county government. At least the 2017 county budget was a start when it came to addressing infrastructure needs.
And we are not building more on to the Smith County Kremlin this year!
Most of all, he actually shows up to work instead of spending his time playing around on social media and attending every conference, committee meeting, and awards ceremony that catches his fancy. So hey, I understand that being an effective local leader includes representing our interests in the legislature. Nonetheless, I'm a little creeped out, because Moran's predecessor, Joel Baker, seemed to enjoy going to Austin just a little too much...and it
got him into trouble
!
It's about local tax increases
Well, not directly, but hopefully that got your attention. Apparently one of the main issues our local delegation is addressing is the proposed Senate Bill 2, which would prevent a local government from increasing its tax rate by more than 4 percent over the previous year's rate without direct voter approval. (The current law sets the cap at 8 percent, and a voter referendum has to be initiated by a petition.) Judge Moran opposes SB-2, saying it is all about "local control."
"Ultimately, as the county judge and also as a conservative, Senate Bill 2 concerns me because of the direction the Legislature is going to - forgetting that local control is a primary pillar of conservative principles,"
I like you, Judge Moran, but we are just going to have to agree to disagree on this one. For one thing, wouldn't direct voter participation in major fiscal decisions made by local governments be the ultimate form of "local control"? And although it has nothing to do with Moran, I remember former County Judge Joel Baker whining about the same thing a couple of years ago and oh, God, please don't let us go back to how things were back then!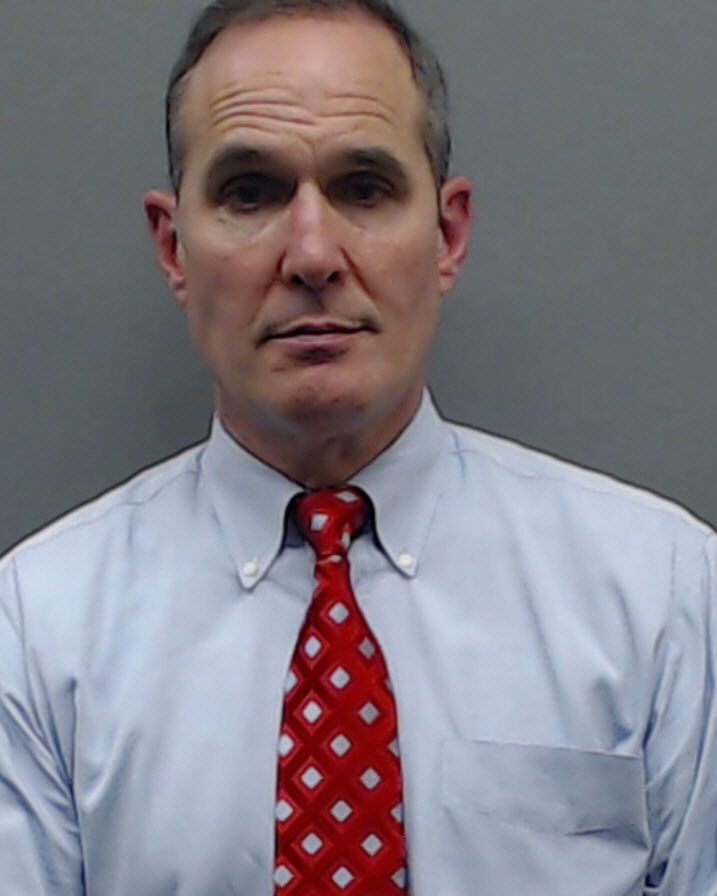 Here's the mugshot, in case some of you are thinking things weren't so bad back then.

Moran and other local politicians make a seemingly valid argument that, since property tax rates in Tyler and Smith County are among the lowest in the state, taxpayers here would be much less affected by a 4 percent tax increase, than, say, those living in Austin and Travis County, where local tax burdens are among the highest in the state. Point well-taken. But again, SB-2 would not prevent a local government from raising tax rates over the threshold, but would simply require them to get voter approval.
And don't let that "we have a low tax rate" chant by county politicians hypnotize you, sheeple. Our county tax rate is indeed low, but not so much because of efficiency in government and sound fiscal policies. Our tax rate is low, in part, because our leaders have simply refused to spend enough on basic government functions (such as taking care of county roads) and have kicked the can down the road, year after year. In doing so, our county commissioners have borrowed against the future, and they or their successors will eventually be faced with some difficult decisions. And yes, it may be necessary to raise taxes to keep things running.
I don't always agree with District 6 Representative Matt Schaefer. But I think he is on the right side of this one. For one thing, we need to stop using the term "revenue" as a euphemism for taxes:
"I don't accept the term 'revenue caps,'" says state Rep. Matt Schaefer, R-Tyler, who supports SB 2. "It's tax money, not revenue."
And, like I already said...
"And they're not talking about a cap, they're talking about a trigger that would require voter involvement....It simply means that those officials raising their tax rate would have to have the permission of the people paying the tax."
So, why is SB-2 good for Smith County?
Hopefully, Judge Moran has noticed that he's presiding over a commissioners court in which the Buffoon Party still holds a majority.
Larry
Moe
Curly
Look, these people might be in office for some time, as voters in their precincts are apparently perfectly happy with them. Suppose Judge Moran serves a term or two and moves on. What if we end up with a county judge who doesn't have good sense? (It's happened before, right?) The last thing we want is to give these people--or others like them--carte blanche to increase taxes by more than a few percent without having to answer directly to the voters!